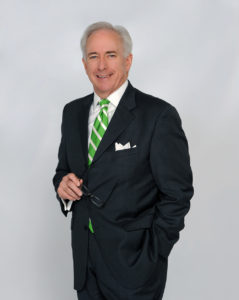 ---
---
Dr. Tim Owings is the preeminent authority for care-centric client engagement in the service-oriented industries of finance, accounting, law, insurance, and human resource management.



 Tim's Top Posts


Black Ice
Several years ago, a business trip took me to Minnesota in the dead of winter. For a Florida-born, this experience was a paradigm shift of frigid proportions. I rented a car in Minneapolis and drove to a small town halfway between the twin cities and Fargo, ND. With a room reservation in Fargo because of an early flight the next day, I prepared to leave that small town in the dead of night when a wise, older gentleman warned me to watch for what he called "black ice" on the interstate.  Read More

Mr. Rogers and the Advisor
"The older I get," wrote television legend Fred Rogers, "the more convinced I am that the space between people who are trying their best to understand each other is hallowed ground." What is this "hallowed ground" between two people who are laboring to understand each other? What does this metaphor say to advisors who, through calls and visits, connect with the people we serve or would like to serve?  Read More
Grief's Many Faces
The further my life's journey extends into its seventh decade, the more I seem to recognize the reality of loss within myself and others. Someone older told me some three decades ago there would come a time when I would read the obituary column with as much interest as the front page. That day has come as more of my own generation are writing their final chapters.  Read More
Lives at Mid-Story
One of the crippling temptations advisors face is assuming a prospect or client's story began when we showed up. Such hubris would be like finding your seat at The Met halfway through Act 3 of Verdi's "Aida" unaware of the deadly triangle between the warrior Radames, the spurned Pharaoh's daughter Amneris, and the Ethiopian captive Aida. Read More
FUTURE BIG-PAST SMALL
Guest New York Times columnist Carl Richards, CFP® has a take on life all of us would be wise to heed. Published recently, his "Your Future Should be Bigger Than Your Past. Here's How to Do It" takes on an enigma that stares advisors in the face every day. How so?  Read More
BEING A NON-ANXIOUS PRESENCE
Not long ago, a client and I were visiting when the meeting changed from a review to a deeply meaningful connection that changed both the content and texture of our relationship. What began as a business conversation faded into the background as she shared with me challenges brought on by her aging father whose fierce independence had all but shut her out.  Read More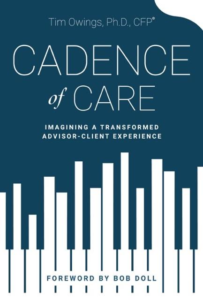 A clarion call to lead with purpose,
Cadence of Care
offers a wise and practical guide to deepening and enriching client relationships.
-Robert B. Seaberg, Ph.D. Intersect Consulting, LLC

Tim Owings understands what all the great ones know. People who trust you are far more important than all the product knowledge in the world.
-Don Connelly
Don Connelly Associates



The concepts Tim Owings shares in his book provide a comprehensive blueprint to integrate into practice.
-Marc D. Miller, Ph.D., Dean of the School of Business, Henderson State University
---