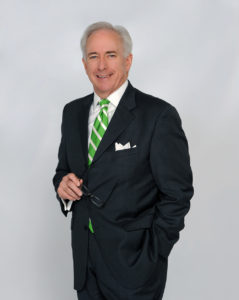 Choose Happy!



Client Loneliness



Adult Children Challenges



On Being Judgeable



Expressing Condolences



Advising Couples Toward Retirement



The Advisor Story



Retirement Conversations



Families with Special Needs



2017
MAY
APRIL
MARCH
FEBRUARY
JANUARY
2016
DECEMBER
NOVEMBER
OCTOBER
SEPTEMBER



Books
Websites
---
---
Dr. Tim Owings is the preeminent authority for care-centric client engagement in the service-oriented industries of finance, accounting, law, insurance, and human resource management.



 Tim's Top Posts

Choose Happy!
Golfing legend Gary Player often tells an audience his secret to positive, purposeful living. Says Player: "Every morning when I get up, I look in the mirror and say to myself, 'Gary, today you can be happy, or you can be miserable.' I choose happy!" What about you? What if your whole day—maybe your life—depends on the choice we make and which choice the client in front us made earlier in the day. Read More

Client Loneliness
My guess is that your practice may include single, widowed, and divorced individuals. The numbers are telling: single adults in the United States now comprise slightly more than half the adult population. That number is growing.  For younger adults, being single poses unique challenges. My under-40 single friends and family members tell me that finding a social, spiritual, or leisure affinity with peers is anything but easy. Social media promises instant community. Read More
Adult Children Challenges
Far more than any advisor is comfortable admitting, we serve senior clients who have challenges with their adult children. And I'm talking children in their early 50's!  When one of these clients calls, I listen. I say, "Let me think about that and get back to you in the next couple of days." I call back, gather more information, and say, "That puts another wrinkle on the problem." I ask another couple of questions and follow up in a few days. Read More
On Being Judgeable
We are professionals in a highly people-centric, story-shaped, often misunderstood business. My experience bears witness to a public that imagines financial advisors are primarily stock traders and CPAs who spend entire careers only crunching numbers. To move beyond these errant images demands a focused commitment to becoming more, not less, judgeable, likable, engaging, and yes compassionate. Read More
Expressing Condolences
Some months back, I came across an article in The New York Times by Bruce Feiler titled "The Art of Condolence." I have written about this topic here before, but he had me re-thinking it, remembering how important it is for advisors to get this right as we reach out to clients going through loss. The article identifies seven bullets to keep in mind when we express condolence.  Of the seven, three bubbled to the top. I add a fourth. First, words are important, but cannot carry the most important aspect to expressing sympathy. In fact, as Feiler observes, "being tongue-tied is O.K." as we attempt to convey support and love for another. Read More
Advising Couples Toward Retirement
I came across an online Forbes article by Robert Laura titled "When Couples Argue About Retirement" that snagged my imagination. The 2015 article shares links to a starting-point questionnaire. That instrument has both partners answering retirement lifestyles and time management questions. Other open-ended questions focus on mortality, values, and family. In the article, Laura raises an issue that, for most of us, is the elephant in the room when we talk with clients about retirement planning. Read More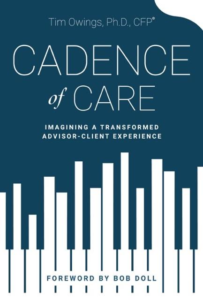 A clarion call to lead with purpose,
Cadence of Care
offers a wise and practical guide to deepening and enriching client relationships.
-Robert B. Seaberg, Ph.D. Intersect Consulting, LLC

Tim Owings understands what all the great ones know. People who trust you are far more important than all the product knowledge in the world.
-Don Connelly
Don Connelly Associates



The concepts Tim Owings shares in his book provide a comprehensive blueprint to integrate into practice.
-Marc D. Miller, Ph.D., Dean of the School of Business, Henderson State University
In 2017, measure your success more by what you give away than what you receive. Give more to others and discover new joy in the New Year!

— Tim Owings (@OwingsTim) January 3, 2017
---