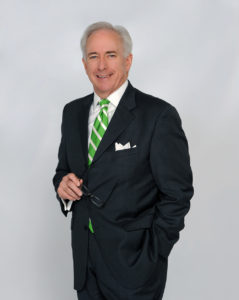 Priority or Option?



Whose Story Matters Most?



Affirming Client Resolve



Write that Note



Staring Mortality in the Face



Sibling Conflict, Part II


Sibling Conflict



The Happiness Factor



2018
MAY
APRIL
MARCH
FEBRUARY
JANUARY

2017
DECEMBER
NOVEMBER
OCTOBER
SEPTEMBER
AUGUST
JULY
JUNE
MAY
APRIL
MARCH
FEBRUARY
JANUARY

2016
DECEMBER
NOVEMBER
OCTOBER
SEPTEMBER



Books
Websites
---
---
Dr. Tim Owings is the preeminent authority for care-centric client engagement in the service-oriented industries of finance, accounting, law, insurance, and human resource management.



 Tim's Top Posts


Priority or Option?
Our nation's beloved poet, now among the immortals, was Maya Angelou. Recently, I stumbled on one of her exquisite sentences: "Never make someone a priority when all you are to them is an option." Are your clients a priority or an option? What would they say about you? And, most importantly, how do we engage the client relationship art form so advisor and client become a priority with each other?  Read More

Whose Story Matters Most?
I traffic in stories. To be clear, all of us do. We are born into a story—family, society, faith—that has been going on a long time. As months unwind into years, the child becomes a teenager and the teenager an adult. Early on, we live in the "family of origin" story unaware of all the influences people, geography, faith, and significant others have on us. But in time, we craft our own narrative.  Read More
Affirming Client Resolve
Recently, I took a call from a client whose world was about to turn upside down. The economy was not kind to her profession, her family situation was anything but ideal, and she was second-guessing a major business decision she had made months earlier. This gifted and emotionally strong woman needed encouragement and hope. Every life has its seasons of uncertainty. Those moments can give rise to illness, uncertainty, and confusion.  Read More
Write that Note
Not long ago, Kathie and I found a handwritten "thank you" note in our mailbox written by close friends. They both come from an older generation that learned from their parents the social graces that included writing notes. In a stack of 8-10 pieces of boring mail, I opened that note first! Such is the power of a handwritten, personal note. Are you in the habit of writing notes to your clients?   Read More 
Staring Mortality in the Face
Some months back, as I was about to leave the house for a 30-minute drive to a church where I was the guest minister, the name of an elderly client appeared on my phone. Not only are these folks clients, but they have been dear friends of mine for over 25 years.  Read More
Sibling Conflict, Part II
So, what can we do to bring healing to sibling conflict? First, accountability is a must. As Michelle and I talked more, I learned that her sister was not giving Michelle a regular summary of her mother's income and expenses.  Secrecy creates mistrust and fuels misunderstanding which ultimately leads to conflict. Most conflict can be managed or avoided when siblings choose to be open with each other.  Read More
Sibling Conflict
Just before Christmas, a couple came to see me wrestling with an issue facing many adult children. "Michelle's sister is responsible for her mother's affairs," her husband Bob reported. I quickly saw a furrowed brow on the wife and an edge to her husband's normally smooth voice. The husband continued: "I know she has 'borrowed' $50,000 from Michelle's mom – money her mother will probably never see again  Read More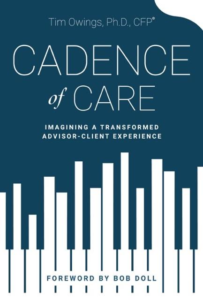 A clarion call to lead with purpose,
Cadence of Care
offers a wise and practical guide to deepening and enriching client relationships.
-Robert B. Seaberg, Ph.D. Intersect Consulting, LLC

Tim Owings understands what all the great ones know. People who trust you are far more important than all the product knowledge in the world.
-Don Connelly
Don Connelly Associates



The concepts Tim Owings shares in his book provide a comprehensive blueprint to integrate into practice.
-Marc D. Miller, Ph.D., Dean of the School of Business, Henderson State University
---