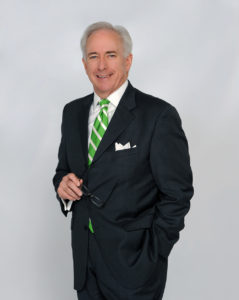 The Power of Admitting a Mistake



What Faces Reveal



The Comfort Level Meter



When the Music Stops



Full Disclosure



Overwhelming Choices



Totality



Facing Forward



Asking Tough Questions



2017
OCTOBER
SEPTEMBER
AUGUST
JULY
JUNE
MAY
APRIL
MARCH
FEBRUARY
JANUARY
2016
DECEMBER
NOVEMBER
OCTOBER
SEPTEMBER



Books
Websites
---
---
Dr. Tim Owings is the preeminent authority for care-centric client engagement in the service-oriented industries of finance, accounting, law, insurance, and human resource management.



 Tim's Top Posts


The Power of Admitting a Mistake
Kathie and I are fortunate in many ways. The most obvious is our three adult children and the lives both personal and professional they have crafted for themselves. One of those blessings is the fact I receive some of my very best reading recommendations from them. Such was the case a few weeks ago when Justin placed in my hands Mistakes Were Made (but not by me) by authors Carol Tavris and Elliot Aronson.  Read More

What Faces Reveal
Advisors who learn to read faces have an edge on the rest of us. They notice the upturned cheek or the downward glance, the twinkle in the eye and the slight nod of the jaw, the raised eyebrow, and the confused posture. Faces often convey more than words—far more!  Read More
The Comfort Level Meter
Here's a test. Scan your file marked "New People Met" and bring to recent memory two or three names, faces, or circumstances when you met someone for the first time. What do you remember about that encounter? What was your first impression? What do you think your first impression was to each of those individuals? Did you glimpse a smile? Was the handshake weak, firm, harsh? What kind of space did you sense the other person needed between the two of you?  Read More
When the Music Stops
The unthinkable has happened yet again. Last Sunday evening, a joyous crowd of music lovers was assaulted by a madman firing an automatic weapon from a room on the 32nd floor of Las Vegas' Mandalay Bay hotel. As of this morning, 59 are dead and more than 500 injured. Everyone at that concert and millions more will never experience life going forward quite the way it was when the music stopped.  Read More
Full Disclosure
Many years ago, I sat with a man whose cagey demeanor told me there was something "back there" that haunted him. In all candor, all of us have moments in our past which we have put in a lock box because they are too painful, too raw to take out and revisit. With gentle nudging, I let him know I was safe. He could tell me anything in confidence, and I would, without judgment, listen and offer support.  Read More
Overwhelming Choices
A good friend who is also Dean of School of Business at Henderson State University recommended I read Sheena Iyengar's fascinating book, The Art of Choosing. In the book, Dr. Iyengar, S.T. Lee Professor in the Management Division of Columbia University's Business School explores how choosing and choice function both in our lives and various cultures both domestically and globally.  Read More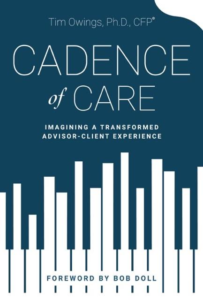 A clarion call to lead with purpose,
Cadence of Care
offers a wise and practical guide to deepening and enriching client relationships.
-Robert B. Seaberg, Ph.D. Intersect Consulting, LLC

Tim Owings understands what all the great ones know. People who trust you are far more important than all the product knowledge in the world.
-Don Connelly
Don Connelly Associates



The concepts Tim Owings shares in his book provide a comprehensive blueprint to integrate into practice.
-Marc D. Miller, Ph.D., Dean of the School of Business, Henderson State University
In 2017, measure your success more by what you give away than what you receive. Give more to others and discover new joy in the New Year!

— Tim Owings (@OwingsTim) January 3, 2017
---